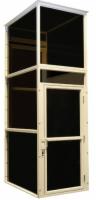 The AmeriGlide Enclosed Platform Lift is designed to be easy to install so that you can enjoy full accessibility to all levels of your home for an incredibly low price. Pre-assembled components will save you both time and money without having to sacrifice the safety or integrity of the lift.
What really sets this model apart from other vertical platform lifts on the market is that is comes with a fully enclosed lift shaft. This unique feature not only creates a clean appearance that will blend well in any home, it also offers protection from the elements in the case of outdoor installation projects.
This innovative mobility and accessibility tool is also highly customizable. Choose from a selection of color finishes, optional features like a fixed ramp and dome roof, and platform sizes. Call us today to speak with an expert, learn more about your options, and place your order today!