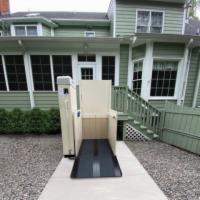 The
Stratos VPL
represents a new generation and evolution in VPL's. New technologies introduced in the
Stratos VPL
make this VPL series more reliable, easier to use, easier to service, easier to troubleshoot, and the premiere market choice for platform lift solutions.
Innovation is at the heart of this next generation Vertical Platform Lift. The
Stratos VPL
is an outstanding choice for vertical lifting solutions in the home or in light commercial settings where an elevator is impractical or unnecessary.
Features:
Guardian System: 4 bright, high-contrast LED status lights give continual performance feedback from the lift's control board. Monitoring almost every critical system, Guardian can provide immediate feedback and guidance.
SteadyDrive: Ensures a smooth, quiet and stable lift.
ReadyUPS System: True battery back-up option that can deliver at least 5-cycles in the event of power loss.